---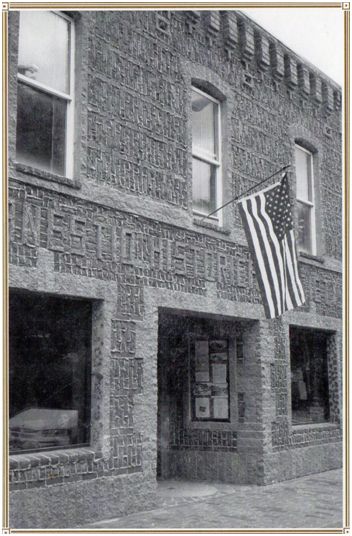 In August 1984, a public meeting was held to discuss the formation of an historical society.  Betty Dennis, a former Canisteo mayor, Virginia Dickey, the town historian,  and Marjorie Burd VanHyning, were instrumental in organizing what was to become the Kanestio Historical Society.   The Society is organized by a constitution and by-laws with a slate of yearly elected officers and a 5 member Board of Directors.
Our goal in 1985 was to secure a home where we could store and display memorabilia we hoped to collect.   The first meetings were held at the Galeazzo Building at 10 Maple Street.   We used town rooms for storage.   As we outgrew our space, we moved into a rented building at 29 Main Street.  As we moved, our collections grew.
The end of our lease at 29 Main Street found us looking down the street at a vacant lot.  With much faith and little money, we purchased the lot at 23 Main Street and began construction in 1994.  We had, however, not contemplated the community's interest and generosity.  John Halloran's encouragement and financial support got us started, and Jim Dineen, who had just retired, expressed a desire to construct the building.  We could literally call this "Jim's Building."   Many others with special talents helped, and Don Brown and Tom Caple, co-chairmen of the project, were always available.  We were able to hold our first meeting the new site on March 21, 1995.   The building housed an office for the Town Historian,  space for public meetings and programs,  a kitchen, and storage and display areas for our large collection of Canisteo.
On a bitter cold night in January of 2014 our furnace overheated and our building suffered severe fire damage.  Thanks to the quick response and efforts of our local volunteer fire department, very few historical items were lost.  The main damage was to computer equipment.  The building, however, had to be totally gutted and the interior re-done leaving us with a "like-new" building which re-opened in October of 2015.    The next year and half was spent cleaning the smoke from our collection, sorting, organizing our items and getting them back on display.
The Society holds a monthly meeting on the 3rd Tuesday of each month with a program of local interest followed by refreshments and a brief business meeting.  There is no charge for these programs and the public is encouraged to attend.  Our museum is open from 1-3 on Wednesdays, Thursdays and Fridays and we invite you to come and explore the many items of Canisteo history on display.  We also have yearbooks dating back to the opening of the Canisteo Academy which you are welcome to peruse along with many scrapbooks and notebooks of historical interest put together by our volunteers.
We invite everyone to stop and visit.